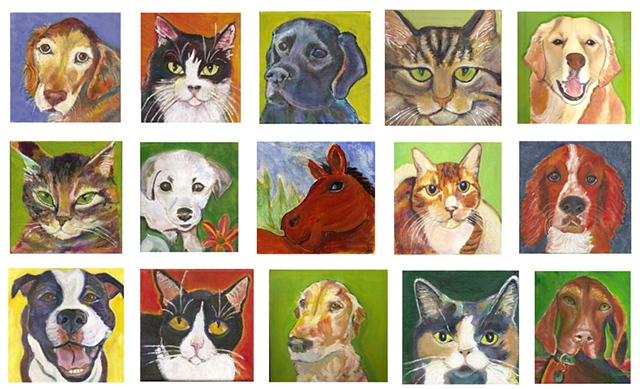 My paintings express the unique personalities I see in the animal world. I paint vibrant colors with expressive lines to capture personality and mood.
I am inspired by animals' extraordinary loving and their grace in living. I hope my paintings show that love and grace in a whimsical way. I aspire for my paintings to beautify the world and change the way that some people think about animals and their role in this world.
My paintings hang in private collections across the country and were included in the book 1000 Dog Portraits.
I accept custom work, which I see as a collaborative project between me and the customer. Check out the price list on this web site, which also explains how I work with you to create a whimsical painting of your beloved four legged friend. And, please email me or call (206 601 6278) with your ideas and questions.
My cards are available at |http://www.etsy.com/
shop/animalfrenzart|Etsy|. i also have some totebags, prints, phone cases and such available at Society 6. Of course, send me an email if you are interested in displaying cards in your shop.
Follow me on Twitter @AnimalFrenzPaint.
Like my art on Facebook.
See my cards at Etsy.
All images and text on thiswebsite are copyright protected by S. Jordan.